Shampoos That May Cause Cancer - Complete List
Benzene, formaldehyde or formaldehyde releasing preservatives are carcinogenic ingredients in shampoos. Benzene are usually found in dry shampoos or shampoo sprays. This compound can cause cancer and where its presence has tested positive, it has been recalled. Benzoates are usually safe , but if they react with ascorbic acid under heat, it can release benzene as well. Formaldehyde releasers are equally under the scanner for the adverse health impacts they cause. Other than cancer formaldehyde can also cause organ malfunctions, kidney and liver disease.
Here is a list of 10 Shampoos that may cause Cancer
If you're on the lookout for an effective shampoo to tackle a dandruff problem, look no further than Selsun Blue Medicated Anti-Dandruff shampoo. It is the number recommendation from pharmacists and its formulation can be medically prescribed. It can be as frequently as your doctor recommends. This shampoo is useful to treat not only seborrheic dermatitis, but also tinea versicolor, and some other scalp aggravations that cause dandruff. This is an anti-infective shampoo, so it should be used under medical guidance. Else, you may experience some adverse side-effects.
Ingredients
Selenium Sulfide (1%)
Water
Ammonium Lauryl Sulfate
Ammonium Laureth Sulfate
Tea Lauryl Sulfate
Cocamidopropyl Betaine
Magnesium Aluminum Silicate
Fragrance
Menthol
Cocamide Mea
Dmdm Hydantoin
Citric Acid
Hydroxypropyl Methylcellulose
Sodium Citrate
Sodium Chloride
Blue 1
Red 33
Check more details of Selsun Blue Medicated Max Strength Dandruff Shampoo
Tired of flakes of dandruff falling on to your clothes? Sick of feeling conscious and self-aware about the flecks in your hair? Then say goodbye and good riddance to your dandruff problem with Equate Medicated Dandruff Shampoo. It is formulated to tackle the root causes of dandruff and seborrheic dermatitis, among other problems. It also provides relief from symptoms of eczema and minimizes their recurrence, although it isn't a solution. Make sure you use the shampoo under a doctor's advisement, especially if you have dermatological issues like psoriasis or severe eczema.
Ingredients
Selenium Sulfide (1 %)
Water
Ammonium Laureth Sulfate
Ammonium Lauryl Sulfate
Cocamide MEA
Cocamidopropyl Betaine
Magnesium Aluminum Silicate
Hydroxypropyl Methylcellulose
Fragrance
Menthol
Chlorphenesin
Phenoxyethanol
Citric Acid
Sodium Chloride
Blue 1
Red 33
Greying a little prematurely? Or having trouble with your blonde locks looking yellow and dirty? Say goodbye to hair color woes and embrace your unique hair and it hues. Jhirmack Ageless Silver Brightening & Moisturizing Daily Shampoo, allows your lighter colors to pop and look vivid and brilliant. The shampoo help to protect your hair against external stress and strain. It rebuilds the proteins, reinforcing your tresses. The nutrients in this shampoo boost hair health and remove warmer, brassy tones to highlight you real colour. So the next time you step out, you won't worry about your greys- you'll be flaunting those gorgeous platinum beauties!
Ingredients
Water/Eau (Aqua)
Sodium laureth sulfate
Disodium cocoamphodiacetate
Glycol distearate
Sodium PCA
Hydrolyzed collagen
Tocopheryl acetate
Panthenol
Macadamia ternifolia seed oil
Folic acid
Ubiquinone
Benzophenone-4
Camellia sinensis leaf extract
PEG-40 hydrogenated castor oil
Fragrance/Parfum
Citric acid
Methylparaben
Propylparaben
Methylchloroisothiazolinone
Methylisothiazolinone
Ext. violet 2
Check more details of Jhirmack Ageless Silver Brightening Shampoo
You ever look at beautiful celebrity tresses and wonder what the secret behind them is? With VO5 you can discover these glamorous locks for yourself. VO5 was created by the Alberto Culver Corporation specifically to address the needs of actresses' hair, which had been damaged by heat, styling and coloring treatments. Now that styling and hair treatments are easily accessible to everyone, this shampoo can you as well! It infuses the hair with moisture and breathes new life into tired hair. Using beneficial essential oils and nourishing B Vitamins, it stimulates and renews hair health.
Ingredients
Water
Sodium Laureth Sulfate
Sodium Lauryl Sulfate
Sodium Chloride
Cocamidopropyl Betaine
Polyquaternium-7
Fragrance
Guar Hydroxypropyltrimonium Chloride
Methylchloroisothiazolinone
Methylisothiazolinone
Glycol Stearate
Hydroxypropyl Methylcellulose
Glycerin
Disodium Edta
Citric Acid
Propylene Glycol
Soy Milk Protein
Fragaria Vesca (Strawberry)
Leaf Extract
Polysorbate 20
Panthenol (Vitamin B5)
Tocopheryl Acetate (Vitamin E)
Ascorbic Acid (Vitamin C)
Niacinamide (Vitamin B3)
Biotin (Vitamin H)
Rosmarinus Officinalis (Rosemary)
Leaf Oil
Prunus Amygdalus Dulcis (Sweet Almond)
Oil
Anthemis Nobilis Flower Oil
Helianthus Annuus (Sunflower)
Seed Oil
Mangifera Indica (Mango)
Red 40 (Ci 16035)
Red 33 (Ci 17200)
Red 4 (Ci 14700)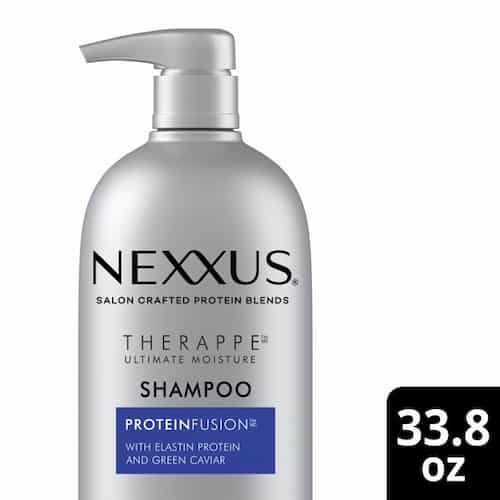 The Nexxus Therappe Moisturizing Nourishing Daily Shampoo with Elastin Protein and Green Caviar is a mouthful! But it's also a highly advanced blend on scientific and natural hair treatments that make you feel totally bougie. The shampoo uses a cutting-edge technological innovation called Proteomics to strengthen and fortify weak hair. It creates a luscious, silky, salon-like appearance and feel, courtesy its professional and advanced formulation. Let every day be a fabulous hair day with Nexxus and your home-salon! Remember, this shampoo is recommended for those with normal to dry hair.
Ingredients
Water (Aqua)
Sodium Laureth Sulfate
Cocamidopropyl Betaine
Glycol Distearate
Sodium Chloride
Hydrolyzed Elastin
Hydrolyzed Keratin
Hydrolyzed Wheat Protein
Hydrolyzed Caviar Extract
Cocos Nucifera (Coconut) Oil
Polyquaternium-10
Fragrance (Parfum)
Peg-6 Caprylic/Capric Glycerides
Glycerin
Gluconolactone
Ppg-9
Trehalose
Citric Acid
Adipic Acid
Sodium Sulfate
Dmdm Hydantoin
Disodium Edta
Hydrolyzed Actin
Hydrolyzed Roe
Fucus Vesiculosus Extract
Methylchloroisothiazolinone
Methylisothiazolinone
Peg-150 Pentaerythrityl Tetrastearate
Ppg-2 Hydroxyethyl Cocamide
Check more details of Nexxus Therappe Moisturizing Shampoo- ProteinFusion
Dandruff can be your hair's worst enemy. Not only does it make your head scratchy, flaky and dirty, it also leads to other hair problems. The infection cause by the fungus Malassezia causes dandruff outbreaks. This in turn can make your scalp pores and the hair follicle bases inflamed and dry. This in turn makes hair grow out weaker, if at all and also makes it brittle and breakage-prone. Fight off these terrible symptoms using the Nizoral A-D Anti-Dandruff Shampoo. This formula is specially curated to beat dandruff from the very root to minimize recurrence, leaving your with a clean scalp and a crisp scent.
Ingredients
Ketoconazole 1%
benzyl alcohol
BHT
blue 1
citric acid
cocamide MEA
fragrance
glycol distearate
hydrochloric acid
hydroxypropyl methylcellulose
polyquaternium-7
sodium chloride
sodium cocoyl sarcosinate
sodium hydroxide
sodium laureth sulfate
tetrasodium EDTA
water
Your baby needs the best tender, loving care you can find. That applies to washing their hair too. Try out the Ricitos de Oro Manzanilla Baby Shampoo with Chamomile for the most claiming bathing experience. It's non-sensitizing, non-irritating hypoallergenic formula ensures bath-time doesn't become a battle. The goodness of chamomile extract also helps to relax the baby. It reduces inflammation on the scalp, taking away any pain or irritation that may be aggravating your little one. It induces a sound, deep sleep that is crucial for your infant's growth. To add to the fun, the shampoo bottle lid is a rattle which allows you to keep your baby occupied as you shampoo him/her. Before you know it the hurdle is crossed and your baby is happy! So get on the Ricitos de Oro bandwagon – let nothing come in the way of your baby's peaceful development!
Ingredients
Aqua/Water
Sodium Laureth Sulfate
Cocoamidopropyl Betaine
Chamomilla Recutita (Matricaria) Extract
Sodium Chloride
Lauryl Lactyl Lactate
Parfum/Fragrance
DMDM Hydantoin
Tetrasodium EDTA
Sodium Lauroyl Glutamate
Citric Acid
Polyquaternium-11
Methylchloroisothiazolinone
Methylisothiazolinone
Caramel Coloring
CI 47005/D&C Yellow 10.
Check more details of Ricitos de Oro Manzanilla Baby Shampoo
Tough days at work stress, household chores and regular commuting can wreak havoc on your hair. Luckily, you don't have to take any extra effort to revive it. With the Mielle Rosemary Mint Nourishing Strengthening Daily Shampoo, you can reinvigorate your tresses. This shampoo infuses your hair with fortifying ingredients like babbasa and coconut oil which promote growth without breakage. At the same time the ingredients help reduce frizz and detangle your hair so that combing and styling are made easier. Wave goodbye to knots and static and say hello to soft, manageable locks.
Ingredients
Water (Aqua
Eau)
Sodium C14-16 Olefin Sulfonate
Cocamidopropyl Betaine
Polyquaternium-7
Cocamide MIPA
Glycol Stearate
Polyquaternium-10
Panthenol
Propylene Glycol
Mentha Piperita (Peppermint) Oil
Rosmarinus Officinalis (Rosemary) Leaf Oil
Disodium EDTA
Phytantriol
*Orbignya Oleifera (Babassu) Seed Oil
*Zingiber Officinale (Ginger) Root Oil
*Cocos Nucifera (Coconut) Oil
Equisetum Arvense (Horsetail Grass) Extract
Lawsonia Inermis (Henna) Extract
Rosmarinus Officinalis (Rosemary) Leaves Extract
Anthemis Nobilis (Chamomile) Flower Extract
Symphytum Officinale (Comfrey) Leaves Extract
Humulus Lupulus (Hops) Extract
Urtica Dioica (Nettle) Extract
Honey
Biotin
Ricinus Communis (Castor) Seed Oil
Phenoxyethanol
Benzoic Acid
Ethylhexylglycerin
Glycereth-2 Cocoate
Fragrance (Parfum)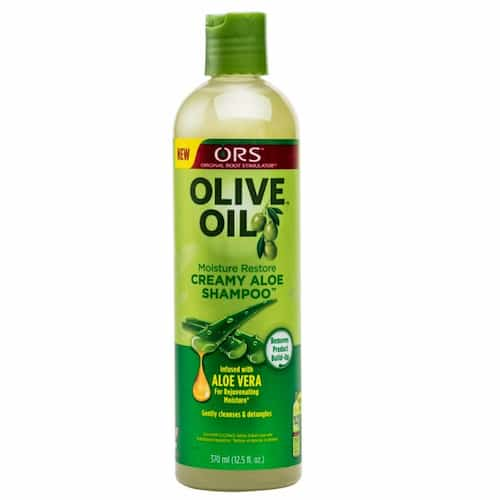 Want to have hair like a Greek goddess? Long, luscious and buoyant? The best option is the ORS Olive Oil & Aloe Moisturizing & Restore Creamy Shampoo. It's mild enough for daily use, so you can ensure your locks stay squeaky clean but nourished nevertheless. Enriched with folic acid, B and C vitamins this shampoo gives your hair an au natural shimmer and shine that only comes with hair that is happy from the inside. The shampoo keeps your tresses detangled and free, so you can also make the most of your freedom. Make your hair a friend and not a foe with this ORS shampoo. It is particularly effective for those who want to clarify and rinse our any residue off their relaxed hair.
Ingredients
Aqua
Ammonium Lauryl Sulfate
Ammonium Laureth Sulfate
Disodium Cocoamphodipropionate
Cocamide Mea
Trideceth-7 Carboxylic Acid
Olea Europaea Olive Fruit Oil
Aloe Barbadensis Leaf Juice
Hydrolyzed Collagen
Lecithin
Sulfated Castor Oil
Glycerin
Propylene Glycol
Lauryl Glucoside
Sodium Laureth Sulfate
Glycol Distearate
Laureth-10
Peg-12 Oleate
Capryliccapric Triglyceride
Polyquaternium-7
Polyquaternium-10
Ppg-5-ceteth-10 Phosphate
Cetrimonium Chloride
Silicone Quaternium-2 Panthenol Succinate
Cetyl Triethylmonium Dimethicone Peg-8 Succinate
Coco-glucoside
Glyceryl Oleate
Disodium Edta
Citric Acid
Dmdm Hydantoin
Methylchloroisothiazolinone
Methylisothiazolinone
Parfum
Butylphenyl Methylpropional
Hexyl Cinnamal
Ci 42053 Green 3
Ci 19140 Yellow 5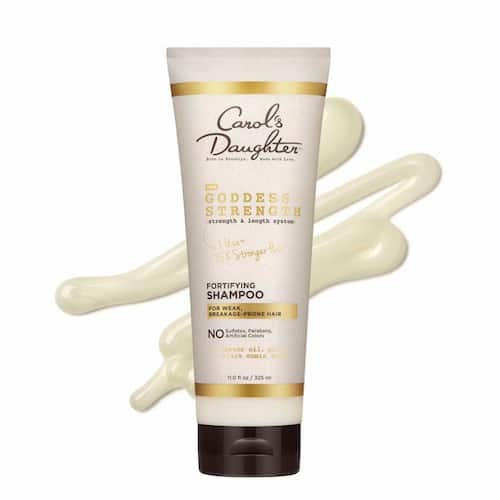 Making sure your hair is healthy and glowing can be a tough task. You not only have to maintain the correct nutrition and protective care, but some fortifying ingredients can be nasty to eat! So you might as well apply it instead. Carol's Daughter Goddess Strength shampoo provides all the goodness of nutritional supplements in the form of an appealing topical shampoo. Like castor oil, which is great for hair growth but tastes terrible. Or ginger which may be too pungent for your palate. This shampoo combines a lot that's good for your hair, making your hair look positively ethereal! Remember, this shampoo is meant for curly haired gals, including 4C tighter, coarse coils.
Ingredients
1213534CD6 - Aqua / Water
Sodium Cocoyl Isethionate
Disodium Laureth Sulfosuccinate
Sodium Lauryl Sulfoacetate
Sodium Lauroyl Sarcosinate
Glycol Distearate
Cocamidopropyl Betaine
Parfum (Fragrance)
Divinyldimethicone/Dimethicone Copolymer
Glycereth-26
Decyl Glucoside
Potassium Hydroxide
PPG-5-Ceteth-20
Citric Acid
Polyquaternium-7
Propylene Glycol
PEG-55 Propylene Glycol Oleate
Polyquaternium-10
Sodium Chloride
Amodimethicone
Coco-Betaine
Carbomer
Limonene
C11-15 Pareth-7
Benzoic Acid
Laureth-9
Glycerin
Geraniol
C12-13 Pareth-23
C12-13 Pareth-3
Trideceth-12
Sodium Benzoate
Linalool
Salicylic Acid
Magnesium Nitrate
Benzyl Alcohol
Phenoxyethanol
Nigella Sativa (Black Cumin) Seed Oil
Ricinus Communis (Castor) Seed Oil
Biotin
Linum Usitatissimum (Flax) Linseed Seed Oil
Tetrasodium EDTA
Methylchloroisothiazolinone
Sorbic Acid
Magnesium Chloride
Methylisothiazolinone
Sorbitol
Zingiber Officinale (Ginger) Root Extract. F.I.L. D241013/1
Check more details of Carol's Daughter Goddess Strength Shampoo